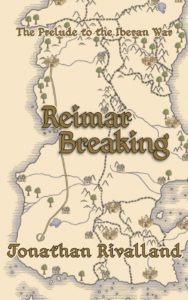 Reimar Breaking
Print: 12 November 2016
Of all the known worlds, of all their nations and all their peoples, there is little rarer than the Helions. Each of these ancient structures is a vast, freestanding portal to other worlds; made by an unknown hand long before humanity arose. Those who control one can claim vast wealth by means of trade and movement through these portals. And on the world of Brisia, it is controlled by the nation of Reimar.
Through both scheming and conflict, Reimar won out against its competitors to claim the territory in which the Helion stands. But Reimar's rivals do not sit idle, and should widespread conflict break out between the more powerful nations, even the smaller countries have grudges to settle.
Reimar's wealth and prestige flows from trade, especially cross-world trade through the Helion. But there are signs of an imminent rebellion, especially among the younger members of more distant noble houses, and some rival nations are eager to take advantage of any internal distractions. Princess Siera du Tealdan has shown herself to be a strong and innovative military commander, while her older brother Ramiros enjoys life at the court of their father King Abarron du Tealdan.
When the situation in Reimar takes a shocking turn for the worse, Siera's military expertise is desperately needed. With no mercenaries available for hire, Siera must pull off a miracle. Having only one skyship armed with ballistae and an under-strength Royal Guard, she must fend off the rebellion, while at the same time dealing with Reimar's old enemy Iln, that has declared an opportunistic war in order to raid and pillage across the border. If the rebels gain control of the Helion, the kingdom will suffocate.
Reimar Breaking, the Prelude to the Iberan War, is the first volume in the Iberan War series.
Available For Digital Download Now